PrivateEye 2.50 has effects!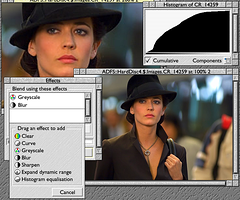 Bitmap effects.
Features:
Bitmap effects

New bitmap effects window allows adjustment of brightness, contrast, gamma, tinting, blurring, sharpening, histogram-based adjustments and more.

Editing awareness

PrivateEye now knows when you've edited images.

Histogram

The histogram window has been freed from the menu structure and can now show you the individual histograms for red, green and blue.

PhotoCheck

Brought across from PhotoFiler, this OS patch enables the versions of SpriteExtend in RISC OS 3.6, 3.7 and 4.0x to cope with a greater range of JPEGs.

Customisable keymap

You can now redefine or supplement the standard key mappings.