Toolbar 1.20 is back from space
After a mere decade's hiatus here's Toolbar 1.20 with a few tweaks.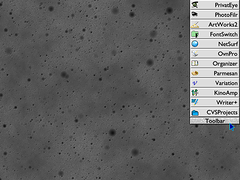 Toolbar earlier today.
The toolbar now opens and closes independently of desktop speed. So if a greedy process is hogging your desktop, the toolbar will now unfurl and retract in the same amount of time.
You can have multiple toolbars, if you fire off multiple instances (it'll use different choices files and position itself independently).
The !RunImage is no longer squashed.